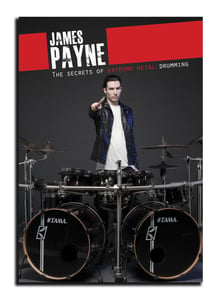 $

25.00
THE SECRETS OF EXTREME METAL DRUMMING
You can currently purchase the Online Streaming version here: https://jamespaynedrums.com/the-secrets-of-extreme-metal-drumming/
Includes over 1.30 hours of instructional footage based on the Freddie Gruber approach of drumming applied to extreme metal playing, starting from the most basic information to the most advanced tips on techniques and fast drumming.
The Secrets Of Extreme Metal Drumming is not only a demo exercises DVD and won't tell you only which exercises to do to improve speed and endurance as all the other DVDs do, but will also tell you HOW to do it and WHY! James Payne will explain how does our body and brain work on drums doing a course from preparing our body to move correctly to applying it on the drum set controlling all the external forces.
Once you'll know how to play your instrument, you'll know how to play any exercise and kind of music!
LANGUAGE: ENG
FILMED BY: Cristina Limonta
EDITED BY: James Payne
DRUMS RECORDED AT: Trai Studio
PACKAGE DESIGN BY: Fabban
PHOTOS BY: Marco Cattaneo
You can currently purchase the Online Streaming version here: https://jamespaynedrums.com/the-secrets-of-extreme-metal-drumming/